As I mentioned in the "Welcome" post, my upbringing is the source of my fascination with the world, a passion which my husband and I are now sharing with our daughter. To give a little deeper glimpse at how the people around me have contributed to my fascination with the world, I thought I'd post a little get-to-know-us map today.
The map below shows the current or one-time homes of our immediate family members. The places indicated on this map are places where I or my husband, or our parents, or our siblings and their spouses, have spent a year or more of our lives (with the exception of Québec, which was merely a summer-long sojourn).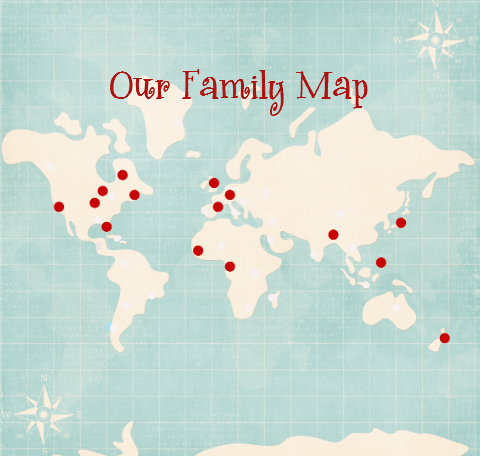 As you join our family on our blogging journey through this Wide Open World, you will likely see a strong emphasis on the places and languages highlighted on this map, as these are the cultures we already love and desire to know more deeply.
But I will also be looking excitedly forward to hearing tales from your trips and adventures, as a thrilling opportunity to peak into other places and cultures we haven't yet met. I'd love to collect funny stories, recipes, travel tips, anything from friends' adventures, too. Together, let's Open Wide the World!