Our family is headed to l'Hexagone in a few weeks. After more than a decade since my last trip à Paris, it seems the closer we get to departure, the more difficult the wait! So this week we gave ourselves a sneak peak into what lies ahead, by treating ourselves to an afternoon at
Le Chocolat du Bouchard
.
Le Chocolat de Bouchard
is a French-style chocolaterie that has been hiding right under our noses, in the heart of downtown Naperville (western suburb of Chicago). We've been to Naperville scores of times, but somehow never noticed the two-store-front bistro et magasin on South Washington Avenue.
One step inside and you won't be sure if you're in the 'burbs, Paris, or chocolate heaven! Everywhere you look, you'll see what
Le Chocolat
touts as "the best in hand-picked chocolate from around the world, including an extensive collection of premium chocolate bars, truffles, and pure healthy chocolate."
Et nous? We chose to indulge in the specialty hot chocolate drinks, inspired by the day's windchill of -5ºF. (I think my Cali blood has returned to its Midwestern roots, as -5ºF didn't actually feel
that
cold.) Kam tried the Italian/Belgian/Swiss Cocoaccino. I couldn't pass up their signature Mexicocoa. And Mag was mesmerized by the prospect of a Hot Cherry Cordial.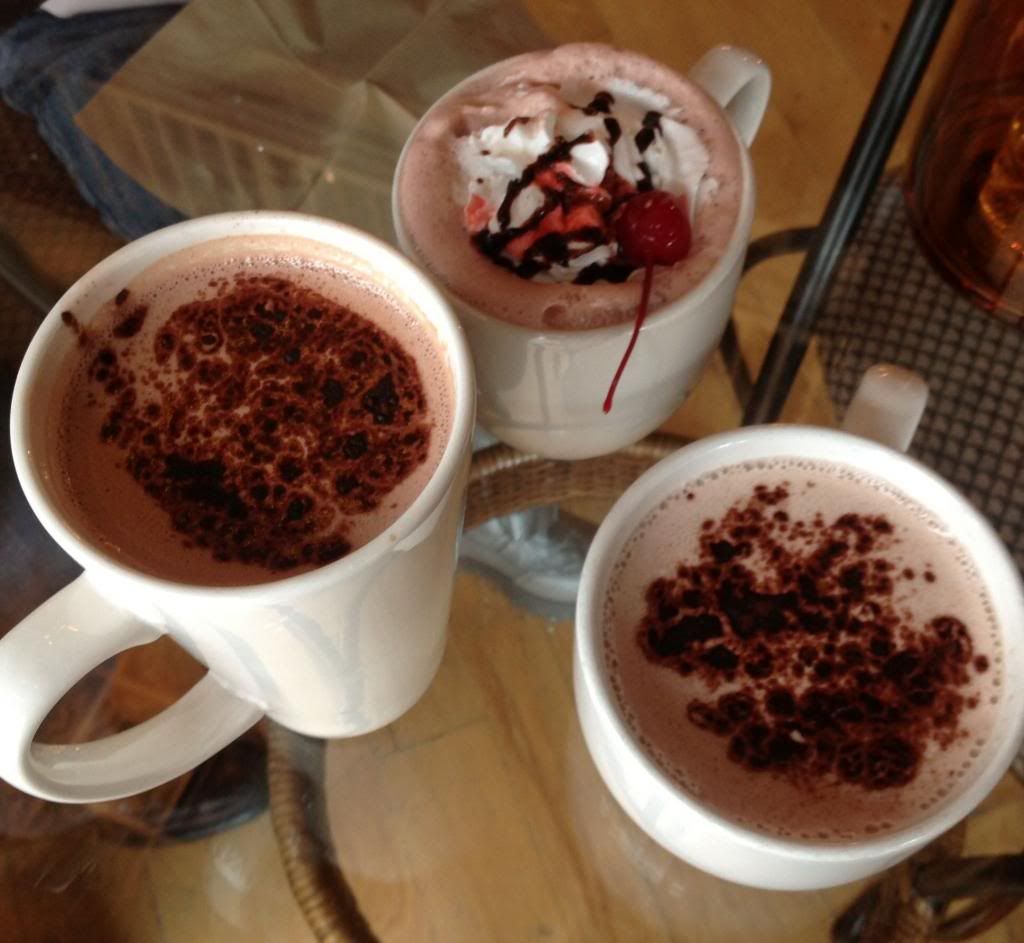 But how did they rate?
The Cocoaccino was fairly authentic, albeit American-sized. My Mexicocoa was delicious, but tailored somewhat to the local palate, being slightly sweeter and with a less pungent cinnamon flavor than I would have expected. No need to rate Mag's Hot Chocolate Cherry; chocolate with any flavor added, plus whipped cream and a cherry speaks to all children!
Does
Le Chocolat
warrant a return visit? Mais oui, bien sûr!
And next time I might even be brave enough to try their "elixir of the Spanish Conquistadors!
"
How about you? Any favorite local spots that take you on a gastronomic journey?
Glossary
dans le Coin (French) = in the Neighborhood
l'Hexagone (French) = France's nickname for itself, due to its shape
bistro et magasin (French) = small cafe and store
Et nous? (French) = And us?
Mais oui, bien sûr! (French) = But yes, of course!