One of our favorite ways to explore the great wide world is through books about travel and destinations. Our favorite place for books? Die Bibliothek! We are at the library
at least
once a week.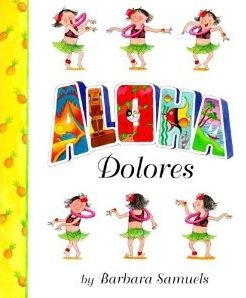 A new library favorite: Scholastic's "Aloha, Dolores," by Barbara Samuels. In this fun and quirky story, young Dolores is convinced she will win a trip to Hawaii when she enters her cat, Duncan, in a contest sponsored by a brand of cat food he doesn't even like. When they don't win, Dolores creatively turns her disappointment into an imaginary voyage.
"Aloha, Dolores" was read 3 times in its first day at our house; I couldn't miss the chance to maximize the fun and turn it into a literacy event!

So today's FREEBIE, inspired by Dolores, is a scrapbook drawing page of an imaginary vacation.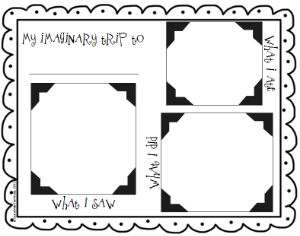 This activity targets "text to self connection," which supports
Common Core
Language Arts goals. It can also easily be extended to cover "text to text connection." Further, KWL (know, want to know, learned) planning can be incorporated pre- and post-activity.
Mag thoroughly enjoyed imagining, drawing, and sharing her "vacation." She chose to go to China, where she saw the Great Wall, pet a panda bear, and ate noodles.
This was a big hit here. If you'd like to try this out for yourself, head to the library for "Dolores," then fire up your printer and swing by
my store at Teachers Pay Teachers
. (Want to know more about Teachers Pay Teachers? Read how much I love TpT
here
.)
EDITED 03/10/13: This file has been MOVED, and can now be downloaded from Google Docs. Click here.
If you give this a try, stop back in and let us know how it went.
Amusez-vous bien!
Glossary:
von der Bibliothek (German) = from the library
Amusez-vous bien! (French) = Have fun!