(I must apologize in advance: I have not yet figured out how to access foreign accent marks when composing on an iPad... so please forgive my Americanized writing of any French that occurs below. Even better, if you happen to know how to type the Latin-1 supplement charcters on an iPad without a $10 app, please leave me a comment!)
Our first full day in Paris was spent touring the Fourth
Arrondissement
, which is primarily medieval and rennaissance in architecture. This highlights are thus:
After a relatively uneventful Notre Dame visit, Mag found her two favorite places in the city.
First, in search of some sunshine to escape the morning chill, we found ourselves in a nice little park/plaground that wraps around the back and Seine-side of the cathedral. Mag jumped right in and did her best to be one of the neighborhood enfants (kids); one little guy even announced "nous perdons un member de notre equipe," (we're losing a member of our team!) when we had to drag Mag away.
Mag's close runner-up for favorite was, of course, a carousel. Surprisingly (to me, at least), carousels can be found sprinkled around the city on many random neighborhood plazas. Thanks to our incessant reading of "
Ollie and Moon
," Mag has been looking forward to a Parisian carousel ride for some time!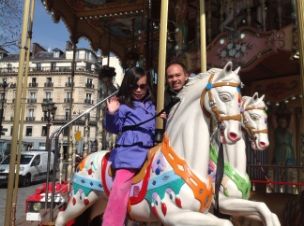 Et moi? Funny thing... I don't normally consider myself much of a shopper, but I had heard about un petit magasin on l'ile Saint-Louis, qui s'appelle simplement "
78
". Very nice, very French, but not very expensive. Really? Mais oui! What a lucky find. I didn't spend too much, and enjoyed every moment of shopping like a true Parisienne! (If you are collecting our mail for us while we're away, you might reap the benefit of this fun find, too!)
Of course, le Centre Pompidou was also a thrill for me, as it is one of the few things on our itinerary for the week that I have not seen in previous visits. The surprise view of the Eiffel Tour from the "Vue de Paris" ascent of the glass-tubed escalators (costing only 3 Euros!) was one of those surreal moments in life. A quick glance over the shoulder to find you've unexpectedly run into the Eiffel Tower? It just doesn't get much better than that!
I had planned to include Kam's faves in today's highlighs list, but he fell asleep before I could ask him for his top pics. (It was a long overnight flight to Stockholm, our gateway city to the Shengen countries. We're still trying to recover.) On that note, I best faire dodo (sleep), too, and be ready for whatever tomorrow holds.
Bonne nuit, tout le monde!
Good night, everyone!