(Accent mark update: I received great instructions for accessing foreign accent marks on the iPad earlier today. Unfortunately, while I can now view the marks, I am still unable to select them to type them. So forgive my Americanized writing for another day. But merci infiniment, Jen, for the help! I'm moving in the right direction.)
Today's itinerary included a long list of stops in the 13th and 14th
arrondissements
, with a much anticipated visit to le quartier chinois, which I have not previously visited. By l'heure du dejeuner (lunchtime), however, it became clear that a change of plans was necessary. With more than 2 weeks of travels still ahead, it is best not to force the itinerary, and just roll with it, n'est pas? (right?)
So this is how the day evolved:
We began with a good walk from the top of the 6th to the bottom of the 5th arrondissement. Around every corner, amazing views just seem to pop up without notice. It is impressive what the locals must think of as quotidian, while we travelers stop to admire and photograph the very same vistas:
a random church that impresses us tourists, but is just part of the morning walk for the locals
Such a very long walk merits a worthy treat!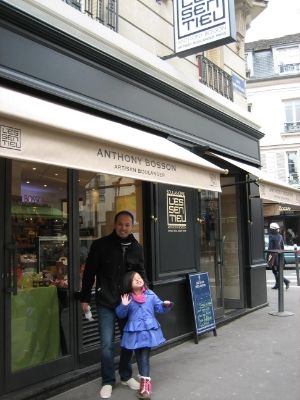 one of the fancier boulangeries we have visited
After exploring rue Mouffetard, a market area in the 5th, for the morning, another surreal playground break presented itself for Mag. My Midwestern expectations will always be amazed at finding modern playground equipment set against medieval backdrops. Not sure if Mag notices that, but I'm sure she'll remember the fun she had playing with des amis francais (French friends).
today's playground stop in the 5th arrondissement
When the chill of a spring day in Paris got too unbearable, we ducked into a neighborhood library and explored the children's section while we warmed up. Sort of a random way to mix with the locals, and get a feel for the community. Below you'll see that Kam has been enjoying the challenge of the new language enough that he actually "read" some French books to Mag, which was fun to see... and to listen to!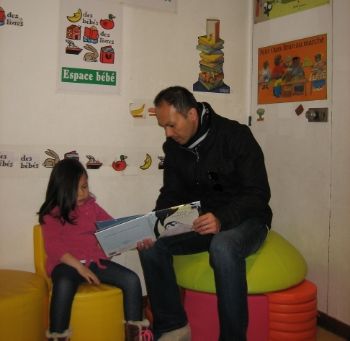 warming up in a neighborhood library
Following lunch in a typical brasserie, and a short metro ride, we were back in the 1st, having scrapped the plans for the13th and 14th. This unexpected re-route allowed us the time for a visit to Sainte-Chapelle, which I believe we would otherwise have missed.
Sainte-Chapelle
"Wow!" Is there anything else one can say upon entering Ste-Chapelle? There truly are no words, in French or English, to express the sentiment that accompanies the first sight of the 15 stained glass windows of the Upper Chapel of Ste-Chapelle. While the three of us weren't terribly wowed by Notre Dame (I may have just visited far too many churches in far too many cities to be objective anymore), none of us wanted to leave Ste-Chapelle today. If we hadn't so desperately needed to get back outside into the warmth of the sun (warmth being a relative term!), we would probably still be there now.
But now, once again it is time to faire dodo (sleep), as we have some BIG plans for tomorrow!
Bonne nuit!