Finally... I ascend the Eiffel Tower!
You know, I have been to Paris a handful of times, even been
to
the Eiffel Tower on several visits, but I've never been
up
La Tour. On one visit, the weather didn't permit ascension. On another, the wait was too long. I can't recall why I remained at the foot of La Tour on the other visits; knowing France, the employees of La Tour were probably staging la grève, thus disallowing an ascent. (France is famous for "la grève," or strikes, of all sorts. You name it, and someone is upset about it, stirring up the masses in protest. Don't be surprised if, upon visiting France, you can't take le Métro, or buy stamps, or ascend the Eiffel Tower, or whatever, for a day or two. If you're here for any length of time, you're going to hit a strike.)
So today, almost 2 decades since my first visit to Paris, with several subsequent attempts, I finally ascended the elusive Tour Eiffel! That's not to say the weather cooperated this time... in fact, it actually started snowing while we were on our way to La Tour. But from sheer determination to finally do it, and great enthusiasm from Kam and Mag, we ignored the snow and pushed forward, or upward, as it were. Fortunately, the snow did not last, and some of our photos even show a hint of sunshine peeking through.
I should say for the record that we didn't get all the way to the top, as we decided against the "lift tickets" in favor of the stairs. The stairs do get you to an impressive height of 377 feet, though, so I don't think we missed too much. And climbing those 1,665 stairs was a great way to earn a dessert crêpe!
I could write a journal full of impressions on this pivotal moment... but instead, I'll let the pictures capture the moment: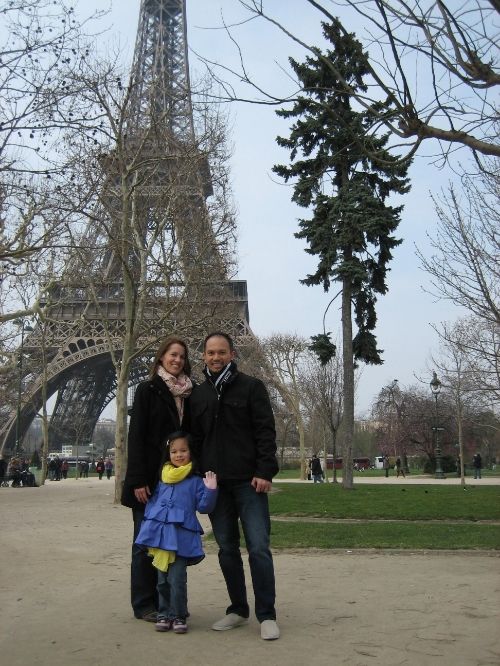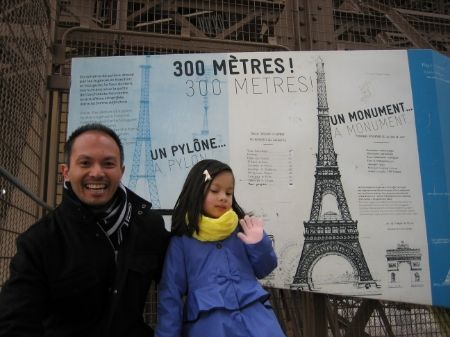 Of course, wherever there is a major historical and cultural landmark in France,
there will be a playground to make a backdrop of it: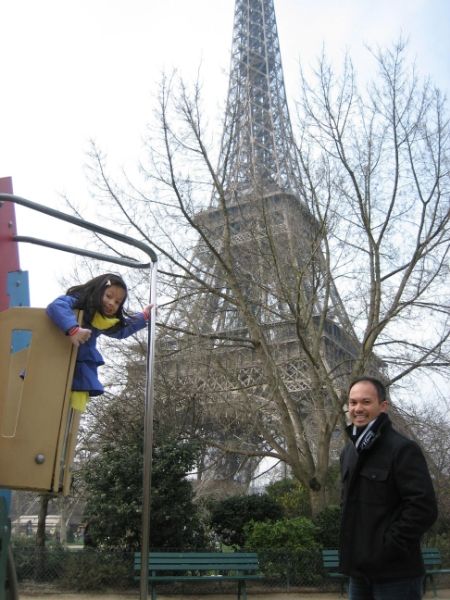 Here are a few interesting tidbits on la Tour Eiffel, most of which I didn't know before today:
Annual visitors : almost 7 million, 75% of whom are foreigners


Tall : 324 meters / 1062 feet (with its antennas)


Weight : 10,100 tonnes / 11,113 tons


Sparkling lights : 20,000 bulbs (5,000 on each side) glitter for 5 minutes every hour on the hour, from nightfall until 1 a.m.


Number of antennas : 120 antennas


Number of steps on the East staircase : 1,665 steps


Number of lifts : From the ground floor up to the 2nd floor: 5. From the 2nd floor up to the top: 2 sets of 2 Duo-lifts.


Kilometers traveled by the lift : The combined distance traveled of the lift cabins is 103,000 km a year (2.5 times the circumference of the Earth).


Surface to be painted :250,000 m2 of surface to be painted during each painting campaign, every 7 years. 60 tonnes of paint are needed
Need a FREE Eiffel Tower coloring page?
Crayola has a cute one here.
Stats from La Tour Eiffel Tourism Page